Trace Gas Orbiter and Sciaparelli were launched together in March 2016 on a Proton rocket, provided by Roscosmos. On October 19 Trace Gas Orbiter was inserted into an elliptical orbit around Mars and is currently preparing for aerobraking phase to finally settle into a circular, ~ 400-km altitude orbit ready to conduct its scientific mission.

IKI developed two instruments for TGO scientific payload:
Atmospheric Chemistry Suite (ACS) complex for spectrometry. It includes three spectrometers (echelle spectrometers for near- and mid-infrared range (ACS-NIR and ACS-MIR) and Fourier spectrometer(ACS-TIRVIM)) and data storing system (ACS-BE). Principal Investigator: Oleg Korablev, Space Research Institute (IKI), Moscow, Russia.
Fine Resolution Epithermal Neutron Detector (FREND) to register neutrons coming from Martian surface as a result of interactions with galactic and solar cosmic rays and to map water ice distribution with high spatial resolution. FREND includes a dosimetry module to estimate, how much of radiation dose on the orbit around Mars comes from neutrons. Principal Investigator: Igor Mitrofanov, Space Research Institute (IKI), Moscow, Russia.
Both instruments use a legacy of previous successful experiments onboard European (Mars Express, Venus Express) and American (Mars Odyssey, Lunar Reconnaissance Orbiter, Curiosity) missions.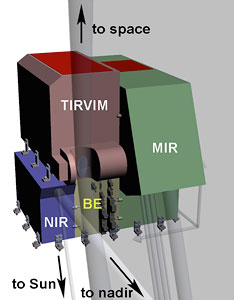 Atmospheric Chemistry Suite (ACS) for ExoMars 2016 Trace Gas Orbiter (c) IKI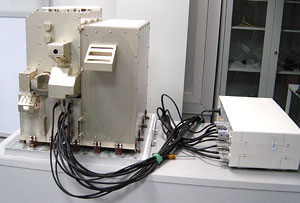 Atmospheric Chemistry Suite (ACS) for ExoMars 2016 Trace Gas Orbiter (c) IKI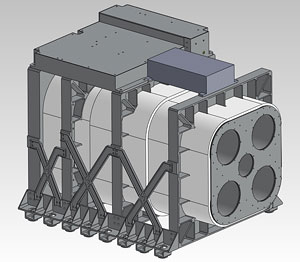 Fine Resolution Epithermal Neutron Detector (FREND) for ExoMars 2016 Trace Gas Orbiter (c) IKI